Shaped by history. Inspired by the mountains. Built for today.
Planned in the late 1950s (building submission 1958) by former sawmill owner and timber merchant Karl Parzer and built in the early 1960s, the core-renovated main house retains its character and original layout inside and out. With its flat gable roof, it fits into the Alpine building tradition and stylistically follows the trends of the time. Thus, the dark wooden elements are fitted into the facade in a contemporary reduced manner in the form of partial, vertical surfaces. The balustrade of the balcony also preserves the traditional imprint of wood, but already reduces its form of expression to a simpler implementation. In the community, the house is still known today as "Das Parzerhaus".
The new building erected in 2020/21 - a design by Innsbruck architect Alexander Placheta - adopts the volume and silhouette of the main house and develops it further. For example, although the roof has the same pitch in the style of a flat gable roof, it does without the overhang. The use of wood, again stained dark, is extensive and designed in a modern vertical laying pattern.
Coming from the street, the new wooden building stands out due to the overhang of the second floor with balcony. The other sides surprise with the free arrangement of square windows of different sizes and with wide glass fronts that provide a view of the Karwendel mountains. The staircase connecting the old and new buildings is also glassy modern and reduced.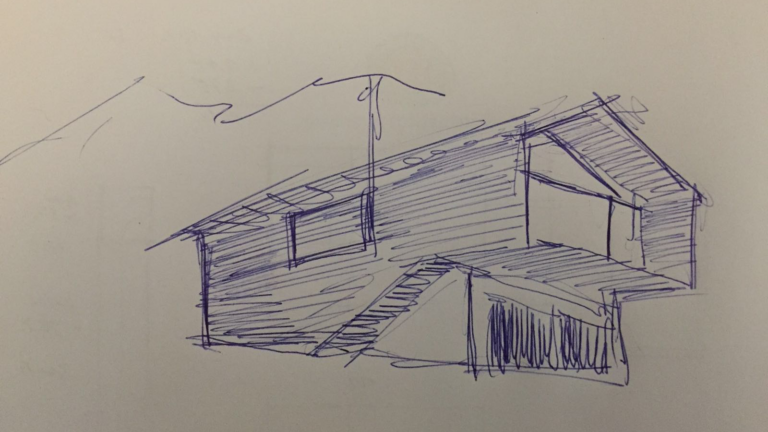 Style icons, modern design, up-cycling and many stories
Each room at AuraKarwendel has been carefully curated. Some pieces of furniture have been a fixture since the 1960s and have been professionally restored. 
For example, some of the Frankfurt chairs still have the original delivery label to the "Sägewerk und Fremdenheim Parzer".
Other (vintage) pieces of furniture, accessories and designer lamps were added specifically to create a stylish atmosphere.
And if you are interested in the stories that are inscribed in the house and make the AuraKarwendel what it is today, you can soon read more here, ask on site or go on a discovery tour yourself.
Can't wait to book your stay?